Shopping guide for eating well
Aratakinga hokohoko mō te mate huka, te whakahaerehanga taumahatanga rānei
A healthy eating plan is high in whole foods. These include vegetables, fruits, nuts, legumes, wholegrains and lean protein-rich food. This shopping guide suggests healthy processed food and drink options, but it isn't a complete list of all suitable foods.
Look for products that have less than 10 g of sugar per 100 g, and less than 10 g of fat per 100 g. Check the nutrition information panel of food products.
Breakfast cereal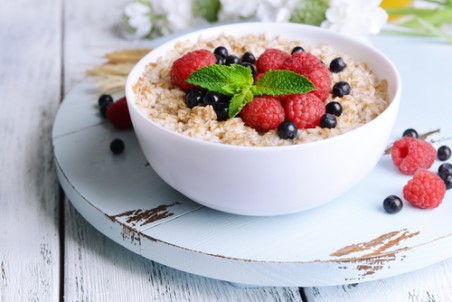 Healthy high‑fibre cereals that also include dried fruit have slightly more sugar. Look for cereals with less than 10 g of fat per 100 g, less than 15 g of sugar per 100 g and more than 5 g of fibre per 100 g.
These are good options:
porridge (if possible, using wholegrain oats)
Weet‑Bix
Sanitarium San Bran
Kellogg's All-Bran (original or wheat flakes)
Healtheries Bran Flakes
certain muesli and flake cereals (but only half a cup).
Bread
Choose grainy bread, rolls, buns, wraps, roti and chapatti with more than 5 g of dietary fibre per 100 g.
Buy wholemeal flour and add wholegrains and seeds if you make homemade bread.
Canned fruit
Choose unsweetened or in natural fruit juice or light juice. Always drain the juice off the fruit before eating.
Beans and lentils
Choose canned beans and lentils with less than 5 g of sugar per 100 g. Healthy choices might include baked beans, chilli beans, red kidney beans, salad beans, chickpeas and three-bean mix.
Eat beans and lentils with your meals several times a week.
Rice, pasta and noodles
Better choices include basmati rice, Doongara rice, Uncle Ben's parboiled rice, Koshihikari rice, wholemeal pasta, San Remo pulse pasta and Trident wholegrain noodles.
Grainy crackers
Choose crackers with less than 10 g fat per 100 g, preferably less than 600 mg per 100 g sodium and preferably more than 6 g fibre per 100 g.
Better choices include Arnott's Vita-Weat, Ryvita and Huntly and Palmers 8 Grain wholegrain crackers.
Vegetable juices
V8 (vegetable variety only) and some tomato juices (but check for added sugars).
Milk
Choose milk with 1.5 g fat or less per 100 ml. This includes yellow, green and light-blue top packaged milk.
For plant-based alternatives, choose unflavoured rice, nut, oat or soy milk. Choose a plant milk with at least 120 mg of calcium per 100 ml.
Cheese
Choose cheese with less than 20 g fat per 100 g. This may include:
quark and ricotta
cottage cheese
cream cheese
Tararua Crème Fraîche Lite
lite cheese slices (check label for fat content)
low-fat Leyden (in the speciality cheese section)
some mozzarella
most feta.
Noble Tasty Mainland Cheese (26 g fat per 100 g) and Edam Cheese (27 g fat per 100 g) are also okay to eat.
Yoghurt
Choose unsweetened or artificially sweetened yoghurt. Those with less than 3 g fat per 100 g such as De Winkel All Natural Plain Unsweetened Yoghurt, Gopala Natural Yoghurt Low Fat (blue lid) and Anchor Protein Plus are good options.
Dips and toppings
Choose products with less than 10 g fat per 100 g and less than 5 g saturated fat per 100 g. These include tomato salsa, some tzatziki and hummus.
Spreads
Peanut butter with no added sugar
St Dalfour fruit spread and marmalade
Barker's spreadable fruit preserves with no refined sugar
Craig's Lite Fruit Spread
Healtheries Dietex preserves
Jok'n'al jam spread and marmalade
Vegemite, Marmite and Promite
Cholesterol lowering spreads such as Flora ProActiv.
Fats and oils
Choose unsaturated fats and oils, such as olive oil, avocado oil, canola oil and rice brain oil. Avoid saturated fats such as butter, palm oil and coconut oil.
Use a cooking spray for pan frying and use baking paper to prevent sticking on pans and dishes.
Treat foods
Eat these foods in moderation:
Weight Watchers low calorie jelly crystals and chocolate mousse
Zilch ice cream
Bulla frozen yoghurt (mini cup)
Nice and Natural Protein Nut Bars and Whole Seed Bars.
Sugar substitutes
If you're pregnant, avoid products with cyclamate (952) and saccharin (954), including Sactab, Sugromax, Sweetabs, Sweetex, Splenda and Sucaryl.
Healthier choices include Equal and stevia (Pure Via, Natural, NatVia, Sweete).
Sugar-free drinks
Water (tap, soda or sparkling) is best but low-fat milk and unsweetened tea or coffee are also fine. Have no more than 1 cup (250 ml) of artificially sweetened drinks per day.
Powdered
Weight Watchers flavoured drink mix
Vitafresh 99% sugar free
Liquid concentrate
Baker Halls & Co concentrate low calorie
Ribena blackcurrant concentrate lite
Thriftee low calorie
VitalZing WaterDrops
Soft Drinks
Diet or Zero drink varieties
Diet Soda Stream or soda water
Hot drinks or milk flavourings
Weight Watchers Drinking Chocolate
Avalanche Sugar Free Drinking Chocolate
Flavoured water or tea
Lipton ice tea low in calories
Healtheries, Red Seal or Twining's fruit or herbal tea bag
Flavoured water (check there is no added sugar or fructose)
Ribena blackcurrant concentrate lite
VitalZing MilkDrops
Written by HealthInfo clinical advisers. Last reviewed November 2022. Last updated March 2023.
Sources
Review key: HIDIA-21832