Overview of your kidneys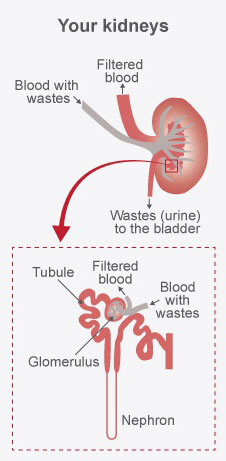 Your kidneys are two bean-shaped organs about the size of your fist. Most people have two kidneys and they sit just below your rib cage, one on each side of your spine.
With two healthy kidneys, each performs 50% of the normal kidney function. But it's possible to lead a healthy and active life with only one functioning kidney. If you lose a kidney, the other one can enlarge and provide up to 75% of your normal kidney function.
Your kidneys' main functions are to:
remove waste products from your blood
balance your body's fluids
release hormones that help control your blood pressure
control the production of red blood cells
help to process vitamin D so your body can use it to keep your bones strong.
How your kidneys work
Your blood supply circulates through your kidneys about 12 times every hour. Your kidneys filter your blood to remove waste and excess fluid, which they turn into urine (wee). Your kidneys process around 200 litres of blood every 24 hours.
Each of your kidneys is made up of about a million filtering units called nephrons. Each nephron has a filter (called the glomerulus) and a tubule. Each nephron filters a small amount of blood.
The nephrons work through a two-step process.
The glomerulus lets fluid and waste products pass through it but prevents blood cells and large molecules (mostly proteins) from passing through.
The filtered fluid then passes through the tubule, which sends needed minerals back to your bloodstream and removes waste. The final product becomes urine (wee).

HealthInfo recommends the following videos

HealthInfo recommends the following pages
Written by HealthInfo clinical advisers. Last reviewed July 2021.
Sources
Review key: HIKID-202879