Glomerulonephritis
Glomerulonephritis (glo-mer-u-lo-nef-rite-is) means the tiny blood vessels that act as filters in your kidney are inflamed. These blood vessels are called glomeruli (plural) or glomerulus (singular). Often they become inflamed because of a problem with your immune system, and this affects how your kidneys work.
Glomerulonephritis (which is often called GN) can happen suddenly and not last very long. This is called acute GN, and usually gets better without much treatment.
However, it can also happen slowly and last a long time. This is called chronic GN and causes permanent damage to your kidneys.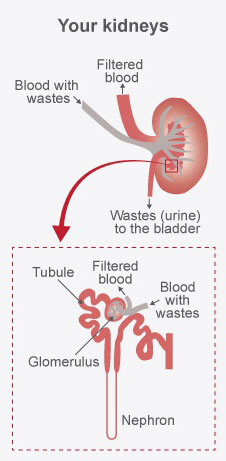 Many people with chronic GN don't notice any symptoms at first. However, if it continues it can lead to complications such as high blood pressure and, in the most severe cases, chronic kidney disease.
What causes GN?
There are two sorts of GN. The GN that happens on its own and is not associated with any other disease is called primary GN.
If GN happens as a result of another disease, it's called secondary GN. It often happens because of a problem with your body's immune system.
The most common causes of secondary GN are:
IgA nephropathy
minimal change disease
membranous nephropathy
focal and segmental glomerulosclerosis (FSGS)
vasculitis
crescentic nephritis.
What are the symptoms of GN?
If you have GN you may notice:
swelling (oedema) in your ankles and legs, or even in your tummy in severe cases
frothy urine, caused by a high amount of protein in your urine
blood in your urine (your urine can look pink).
As well, tests may show:
protein in your urine (proteinuria) – usually this protein will be albumin
low protein in your blood (because it's leaking into your urine)
high blood pressure, which can further damage your kidneys
reduced kidney function – your kidneys can't filter the waste and excess fluid out of your blood as well as they should.
How is GN diagnosed?
Doctors diagnose GN with urine tests (to measure the amount of protein in your urine), blood tests (to measure how well your kidneys are working) and a renal biopsy. A renal biopsy means a small piece of your kidney is removed and then examined under a microscope to look for what's causing the GN, and how bad it is.
How is it treated?
Treatment for GN depends on what caused it, the type of GN, and how severe your symptoms are. The aim of treatment is to protect your kidneys, prevent further damage, and treat whatever is causing it. It may include oral steroids and drugs that slow your immune system down (called immunosuppressant drugs).
Sometimes treatment can cure GN, and in many cases it can slow the disease down. It's always important to make sure your blood pressure is under control.
Sometimes GN can cause permanent kidney damage, which can lead to chronic kidney disease. If this happens to you, you will need dialysis.

HealthInfo recommends the following pages
Edinburgh Renal Unit

Vasculitis

This page answers questions such as: What causes vasculitis?, and What types of vasculitis affect the kidney. (Some of the text is quite complex.)

Crescentic nephritis

This page answers questions such as: What is crescentic nephritis? and What is the treatment. (Some of the text is quite complex.)

NHS – Glomerulonephritis

This section explains what glomerulonephritis is, its symptoms, causes, diagnosis, treatment and possible complications.

Kidney Health Australia – Nephritis – glomerulonephritis

This brochure answers questions like what is glomerulonephritis, who gets it, and what are the chances of getting renal failure?
Written by HealthInfo clinical advisers. Endorsed by clinical director, Nephrology Department, Canterbury DHB. Page created August 2016.
Sources
Review key: HICKD-117713