Bursitis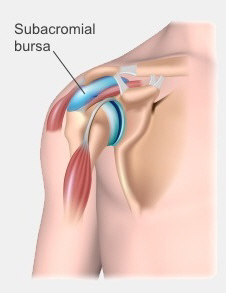 Bursitis is inflammation of a small fluid-filled sac that sits near one of your bones. These sacs are called bursae (plural) or bursa (singular), and they help to protect the tissues that slide over the bone when you move. The illustration shows the bursa in your shoulder. Inflammation here is called subacromial impingement, or subacromial bursitis.
You have more than 150 bursae in your body. The ones that most often develop bursitis are in your shoulder, elbow, hip, and knee.
Bursitis can happen if you:
move a joint in the same way many times, such as when you throw a ball a lot
put a lot of pressure on the area, such as kneeling or resting on your elbows
have certain types or arthritis, like gout or rheumatoid arthritis
have an injury near to a bursa, such as a strained shoulder or an inflamed tendon
have an infection, usually on your skin, that spreads to the bursa
are overweight, which puts more strain on your joints.
Written by HealthInfo clinical advisers. Last reviewed July 2019.
Sources
Review key: HIBUR-255218