Overview of hip & knee replacement
Mō te whakakapi hope me turi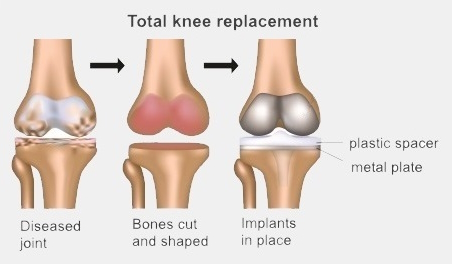 During a joint replacement operation (also called arthroplasty), some or all, of a damaged or diseased joint is replaced with an artificial one. It's usually done when a joint has become very painful, is causing disability and can no longer be managed with nonsurgical treatments. Hips and knees are the most common joints to be replaced.
The NHS website has good sections explaining hip replacement and knee replacement.
Publicly funded joint replacements
If your doctor thinks you need a hip or knee replacement and you meet certain criteria, they will refer you to an Orthopaedic surgeon. The criteria may include how severe your symptoms and disability are, how this is affecting your life, any other illnesses you have and your weight.
Your doctor will make sure you've tried non-surgical treatment options first as many people with hip and knee problems can manage well by making lifestyle changes.
If you don't meet the criteria for a publicly funded joint replacement, you may be referred to a dietitian for support to lose weight, physiotherapy, a mobility action programme or given information about Support for getting active.
If you want surgery before it's available through the public system or you don't meet the criteria for treatment in the public system, talk to your GP about being referred to a private orthopaedic surgeon.
After a hip or knee replacement
The Enhanced Recovery After Surgery (ERAS) booklets on Hip & knee replacement surgery have information about what to expect after a hip or knee replacement.
Your surgeon will normally see you again four to six weeks after your hip or knee replacement. By then, you should have been able to resume most of your normal daily activities including walking without a walker or crutches and showering. If you drive, you may be back driving. If you work, you should be able to return to work.
Talk to your GP or physiotherapist if you're still having problems with daily activities or if you want to want to restart a strenuous activity or sport. It might help if they design a specific exercise programme for you.
On the next page: Hip & knee replacement surgery
Written by Burwood Orthopaedics team, Canterbury DHB. Adapted by HealthInfo clinical advisers. Last reviewed May 2022.
Sources
Review key: HIHKR-48747