How to eat more vegetables and fruit
Eating plenty of vegetables and fruit has been linked to better health – and for good reason. Veggies and fruit (fresh and frozen) are loaded with vitamins, minerals, fibre and antioxidants, which protect against many diseases, including heart disease and some cancers. They're also low in calories, making them a great choice for your waistline.
Eat a rainbow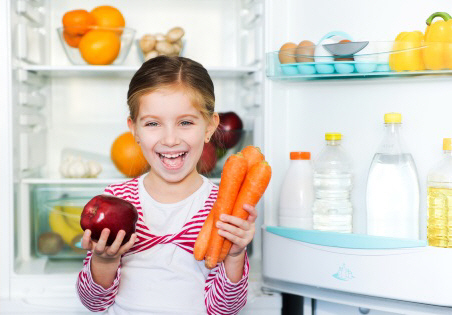 Choosing variety of different coloured vegetables and fruit ensures you receive a good range of nutrients.
Red – tomato, strawberries, raspberries, red pepper, apples.
Orange or yellow – peaches, nectarine, apricots, orange, pineapple, pumpkin, carrot, swede, yellow pepper.
White or brown – banana, pears, onion, potatoes, cauliflower, turnips.
Green – kiwifruit, green grapes, avocados, broccoli, leeks, peas, cabbage, brussels sprouts, lettuce, spinach, silverbeet, green beans, green pepper.
Purple or blue – prunes and prune juice, blackberries, blueberries, beetroot, raisins, currants, and blackcurrant juice.
5+ a day
For health and vitality, eat five or more servings of colourful vegetables and fruit every day.
At least three servings of vegetables and two servings of fruit = 5+ a day.
Examples of one serving:
one or two small pieces of fresh fruit
half a cup of cooked fruit
one cup of fruit juice (once daily only)
half a cup of cooked vegetables
one bowl of vegetable soup
half a cup of salad.
How to add more fruit and vegetables into your diet
Include some vegetables or fruit in each meal or snack.
Breakfast
Add chopped fresh fruit such as apples, pears, bananas, kiwifruit, or canned or stewed fruit to your favourite cereal.
Try adding half a cup of chopped fresh fruit such as apples, pears or dried fruit to porridge.
Make a fruit smoothie by blending together low-fat milk, yoghurt and fruit such as bananas, berries, apricots or peaches. Using frozen fruit will make your smoothie creamy and extra cold.
Try one of the following on toast: mashed banana, sliced tomato, mashed avocado with lemon juice and ground pepper.
Lunch or dinner
Make vegetable soups with generous servings of your favourite vegetables.
Serve cooked frozen vegetables with ready prepared meals such as shepherd's pie or fish pie.
Add extra vegetables to mince dishes, quiche, macaroni cheese, frittata, pasta sauces, and meat and chicken stir-fries. Try adding one or more of the following: mushrooms, carrot, celery, courgette, leeks, broccoli, green beans, red or green peppers.
Include root vegetables such as carrots, parsnips, turnips, potato or kumara in winter stews and casseroles.
Dried fruit such as apricots, apples, sultanas or prunes can be added to casseroles to give a delicious flavour.
Add finely sliced vegetables such as mushrooms, red or green peppers, tomatoes, spring onions, red onion or courgette to omelettes or on top of pizza.
Add sliced fresh fruit such as strawberries, kiwifruit, apricots, nectarines, peaches, or orange segments to lettuce salads.
Snacks
Fresh or dried fruit such as dates, apricots, raisins or sultanas.
Replace a cup of coffee or tea with a glass of juice or fruit smoothie.
Add vegetables and fruit to sandwich fillings:

salad vegetables: tomato, lettuce, beetroot, red, green or yellow peppers, cucumber, avocado, grated carrot
chopped dates, sultanas or raisins with peanut butter
banana or grated apple with cinnamon and honey
cottage cheese, grated apple, chopped dates and celery.

Add vegetables or fruit to muffins, cakes or scones.
To the usual cheese on crackers, add one or more of the following: sliced tomato, cucumber, red pepper, avocado, gherkins or pickled onion.
Dips or hummus served with a range of colourful vegetables cut into bite-sized pieces. Try carrot, celery, cucumber and red pepper strips, beans, cauliflower, and broccoli florets steamed until just tender.
For more meal and snack ideas, look at How to get 5+ a day every day on the 5+ a Day website. You might also like to try some recipes from the Fruit and Vege Co-operative.
Written by the Healthy Eating, Healthy Ageing project, Older Persons Health and Rehabilitation (OPH&R), Canterbury District Health Board. Adapted by HealthInfo clinical advisers. Last reviewed April 2018.

Sources
Review key: HIHEI-34305