Tips to help your child be healthy & active
Ētahi tīwhiri hauora mō te oranga o tāu tamaiti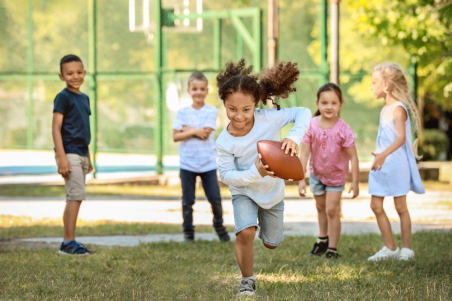 There's lots you can do to look after your child's health and the health of your whole whānau/family.
Have breakfast every day
Breakfast will give your child and whānau/family a good start to the day. Breakfast will give your child energy to be active and learn better. Eating breakfast will also make it easier for your child to achieve or stay a healthy weight.
See Breakfast ideas for children. This page also has suggestions about what to do if your child won't eat breakfast.
Eat 5+ a day
Vegetables and fruit are packed with important vitamins and minerals that can help to keep your child healthy. Children need five or more servings of colourful vegetables and fruit every day. This should be at least three servings of vegetables and two servings of fruit.
A serving is about a handful, and we all use our own hands. So, a serving for your child will be smaller than yours.
Encourage your child to have vegetables or fruit at all meals. They also make great snack foods. For more healthy snack ideas see Snacking for children.
For tips to encourage your child to eat and enjoy vegetables and fruit, see How to get 5+ a day every day on the 5+ a day website.
Drink water or milk instead of sugary drinks
Water and unflavoured milk are the best drinks. See Make your own flavoured water from Healthy Kids for ways to make water more appealing.
Take cordial, fizzy drink, fruit juice and sugary drink sachets off your shopping list.
For more information, see How much sugar in that drink? from the Health Promotion Agency.
Match serving sizes to hand sizes
Most children don't need as much food as adults. Use your child's hand as a guide for serving sizes but trust their hunger cues.
Parents are in charge of what, when and where children eat, children are in charge of how much they eat, if they eat at all. Children are born with an amazing superpower – they'll eat when hungry and stop eating when they're full. Forcing or bribing a child to eat can teach them to ignore their body's hunger and fullness signals.
Serve a palm-size amount of protein food such as meat, chicken, seafood, eggs or legumes (cooked dried beans, split peas or lentils).
Serve a fist-size amount of carbohydrate food such as potato, pasta, rice or bread.
Serve two cupped handfuls of colourful vegetables.
For healthy meal ideas see Dinners for children and School lunches. For tips on making mealtimes fun see Parenting healthy & active children.
Eat together as a family
Sharing meals together helps to build strong whānau/families. Turn off the TV, tablet and mobile phones while you're eating.
Have meals at times that suit your children. This may mean having meals earlier than you're used to.
Make preparing food fun. Let your child help from an early age and let them do more as they get older.
See Meal planning and recipes for ideas to help you plan and prepare tasty, fast, easy and low-cost meals.
Have takeaways less than once a week
Most takeaways are high in fat and salt. Only have them on special occasions.
See Takeaway tips for ways to make healthier takeaway choices for your whānau/family.
Be active for 60 minutes a day
Children need at least 60 minutes of physical activity a day for good health. But it doesn't need to be all at once. Several short 10-minute bursts of activity throughout the day can be just as good.
See Children and young people on the Active Canterbury website and Keeping active for activity information and ideas for children.
Limit screen-time (outside school hours) to two hours or less a day
Screen-time includes time using TVs, computers, game consoles, phones, iPods and so on.
Plan screen-time with your children in advance. Talk about how much and when. For every 30 minutes of screen time your child should take a 10-minute activity break. See Screen-time strategies.
Get plenty of sleep
Children need 10 to 12 hours sleep. If your child doesn't get enough sleep, it makes it harder for them to function during the day. They're also more likely to have behaviour and learning problems and be overweight.
Have a regular bedtime routine. Aim for a gap of at least two hours between eating and bedtime. Create a quiet space for sleep and remove all screens (including mobile phones) from their bedroom.
If your child has sleep problems, see Sleep advice for children.
Be a good role model
Children learn by example. If you're active and make healthy food choices, your children are more likely to do the same. See the advice in Parenting healthy & active children.

HealthInfo recommends the following videos

HealthInfo recommends the following pages
Based on the Bodywise programme developed by Waikato DHB and Sport Waikato. Adapted by HealthInfo clinical advisers. Last reviewed September 2021.
Review key: HIHEC-62690