Preventing food allergies
Te ārai i ngā mate pāwera kai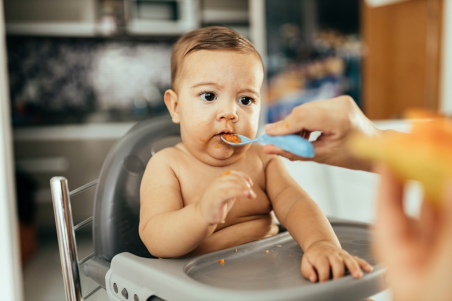 The following options are recommended to reduce the chance of your pēpi (baby) having a food allergy.
Milk options
If possible, breastfeed for at least six months and for as long as you and your pēpi wish to continue.
If breastfeeding isn't an option, use a standard cow's milk formula instead. Soy milk formula isn't recommended for tamariki (children) less than 6 months old.
Using partially hydrolysed formulas (often labelled HA or hypoallergenic) doesn't prevent eczema, food allergy, asthma or allergic rhinitis in pēpi or tamariki.
Regular cow's milk, goat's milk and other animal milks, soy milk and other plant milks aren't recommended for tamariki as the main source of milk before 12 months of age.
Solids
You can introduce solids from 4 to 6 months of age, preferably while still breastfeeding.
Introduce one food at a time every one or two days (give foods the family usually eats).
In the first year of life, you should give your tamaiti (child) foods that commonly cause allergies, such as peanut butter, tree nuts, cooked egg, dairy, seafood and wheat products. This is even if your tamaiti is at a high risk of allergy. This can reduce their chances of becoming allergic to these foods.
Only introduce one of these foods at each meal so you can identify the problem food if there is an allergic reaction.
If your tamariki has an allergic reaction, stop giving them that food and seek medical advice.
Unless there is an allergic reaction to the food, continue to give the food to your tamaiti regularly (twice weekly) as part of a varied diet. Trying a food and then not giving it regularly may result in a food allergy developing.
Written by HealthInfo clinical advisers. Last reviewed July 2022.
Sources
Review key: HIALL-38559