Fibre & fluid for children
Kaka me wē mō ngā tamariki
Fibre makes poo softer and easier to pass. It comes from plant foods such as fruit, vegetables and grains.
Tips to help ensure your child has a good fibre intake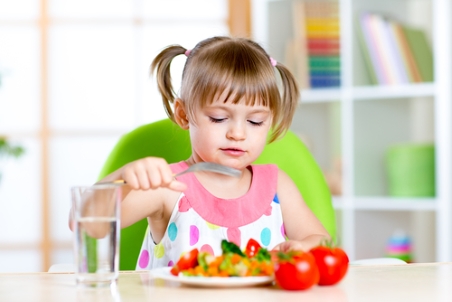 Make sure they have at least two servings of fruit and three servings of vegetables a day. A serving is what fits into the palm of your child's hand. For tips to encourage your tamaiti (child) to eat and enjoy fruit and vegetables, look at How to get 5+ a day every day on the 5+ a day website.
Give them bran-based cereals, Weet-Bix, wholegrain cereals or porridge. Avoid highly processed cereals such as cornflakes, rice bubbles and cereals with added sugar.
Give them wholegrain bread instead of white bread. Read the nutrition information panel on the bread packet and choose bread with at least 5 g of fibre per 100 g. Don't give tamariki (children) under 3 bread with large seeds like sunflower seeds.
Don't give infants or young tamariki children wheat bran sprinkled over cereals or bran-rich cereals such as All‑Bran or San Bran. These may stop them absorbing important minerals such as iron and zinc. You can give 1 or 2 teaspoons of bran to tamariki over 10, as long as they have plenty of fluids at the same time.
If your tamaiti child is already eating a fibre-rich diet and drinking plenty of fluids, increasing fibre intake further and having extra drinks will not usually help constipation. In this case, they will usually need medications.
Normal fluid needs
Tamariki aged 2 to 8 years need about 4 to 5 cups of fluid a day.
Tamariki aged 9 to 13 years need 5 to 6 cups of fluid a day.
If your tamaiti is very active, has constipation or diarrhoea, they may need to have more fluid.
Water is the best fluid.
Fluid if your child is constipated
Try one glass of undiluted prune juice, apple juice or Kiwi Crush a day. Kiwi Crush is a kiwifruit drink available at most supermarkets. These juices contain a natural poo softener. They're also high in sugar, so make sure your tamaiti brushes their teeth after drinking.
Limit milk to no more than two cups (500 ml) a day if they're over 18 months old. Too much milk can fill your tamaiti up and mean they're less likely to eat proper meals with plenty of fibre-rich food.

HealthInfo recommends the following pages
On the next page: Medications for constipation in children
Written by HealthInfo clinical advisers. Last reviewed February 2022.
Review key: HICOC-14683